Zu meinen Litton-(C. Plath/Litef-)Seiten
To my pages about Litton (C. Plath/Litef)
In dankbarer Erinnerung an die Herausforderungen in den sieben Jahren 1962-1968. Jeden, der zu den ersten Mitarbeitern gehörte, hat der an deutschen Universitäten, in Handwerk und Industrie noch weithin unbekannte Stand der neuesten NASA-Präzisionstechnik nachhaltig geprägt.
In grateful remembrance of the challenges of the seven years 1962-1968. Everyone who was one of the first to work at Litton was strongly charakterized by the newest NASA precision technique which latest developments in german universities, craft and industry were vastly not yet known.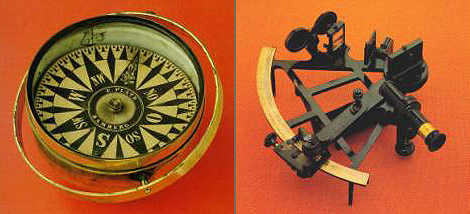 Das Hamburger Unternehmen C. Plath war durch seine Schiffsmagnetkompass- und -spiegelsextant-Technik in der gesamten Seefahrt bekannt und geachtet.
The Hamburg-based company C. Plath was in the maritime industry well known and respected due to its magnetic compass and mirrored sextant technique.

>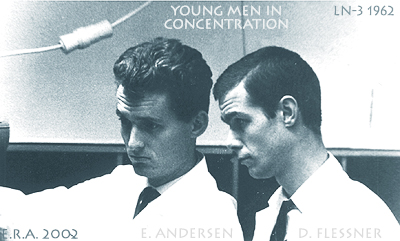 Dirk Flessner und ich musterten am selben Tag an.
Konzentriertes Arbeiten...
Dirk Flessner and I signed up on the same day.
Concentrated work...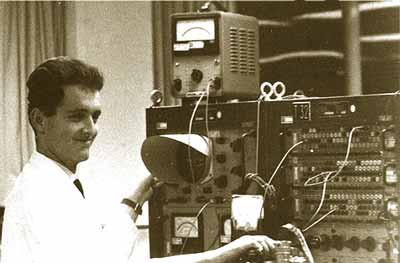 ...am analogen Computer- und an anderen Hardware-Systemen, deren Zusammenspiel die verlässliche Starfighter-Navigation garantierte. Spezielle Steckkarten enthielten feuchtigkeitsisoliert und rüttelsicher elektronische und feinmechanische Präzisionskomponenten. Ihre Funktionen gewährleisteten die beeindruckende Exaktheit der Berechnungen und die Langzeitstabilität des gesamten Trägheitsnavigationssystems, das gegen vom Erdboden gesendete Stör- und Ablenksignale vollständig immun war.
...at the analog computer and other hardware systems, whose interaction guaranteed the reliable Starfighter navigation. Special plug-in cards contained precision electronic and mechanical components, which were insulated from moisture and vibration. Their functions ensured the impressive accuracy of the calculations and the long-term stability of the entire inertial navigation system, which absolutely had to withstand interference and deflection signals transmitted by the ground.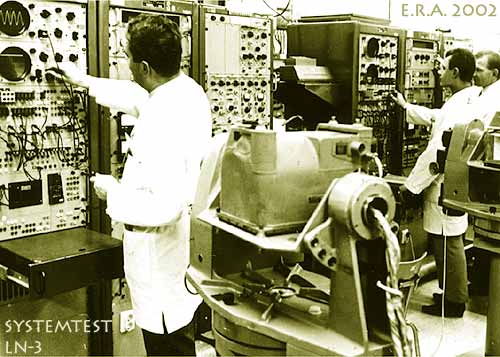 Ein Dresdener in Freiburg, Günter Broesan, vorne. Faszinierende Hardware-NASA-Technik, um durch Nutzung und Nachbildung universal und global gegebener Naturgesetze dem Starfighterpiloten die im politischen Konfliktfall notwendige störsignalsichere Navigation im Flug gegen den Konfliktgegner zu sichern. – Hier die Systemtest-Abteilung.
A man from Dresden in Freiburg, Guenter Broesan, in front. Fascinating hardware NASA technology, in order to use and replicate universally and globally given laws of nature, to provide the starfighter pilot with the necessary navigation in flight against the opponent in the event of a political conflict against the enemy. – Here the system test department.